With a population of well over a million people Birmingham is actually the largest city in England outside London. It is located on the River Rea in the West Midlands and as is a good place to study, work and live. If you are planning on moving homes from London to Birmingham in the near future, but you do not known your potential new home particularly well, this guide to the key landmarks in Birmingham is actually going to be of help to you, we hope.
Galleries and Museums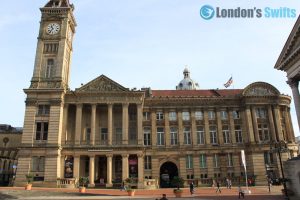 On the forefront of the cultural life in Birmingham stand two major galleries and museums in the city. The first one is the Birmingham Museum and Art Gallery, which has a very extensive collection that covers a wide range of topics, including:
Fine art
Ceramics
Metalwork
Jewellery
Natural history
Archaeology
Ethnography
Local history
Industrial history
Truly, if you have just one museum in the city to go to, that's the right choice. What the Birmingham Museum and Art Gallery is particularly famous for is a Pre-Raphaelites collection that is designated to have an "outstanding importance".
If you are more into science than art, then you should indeed drop by Thinktank – the city's science museum. In addition to a planetarium and a pretty huge cinema screen, Thinktank boasts a pretty impressive collection as well. In the centre of this collection stands the Smethwick Engine – the oldest working steam engine in existence, originally brought into service in May 1779.
St Patrick's Day
If there is a day in the year when people are prompted to celebrate, enjoy themselves and consume dangerously big quantities of beer and hard liquor, that's St Paddy's Day. Well, did you know that the St Patrick's Day Festival in Birmingham is the largest in world outside Dublin, and is the single largest annual event that takes place in the city? If that is not a good reason to relocate to Birmingham, we do not know what is.
Architectural landmarks in Birmingham
Every big city in England is particularly proud of its heritage and history. This is particularly well manifested through the preservation of historic buildings that are integrated in the landscape of the modern metropolis. Birmingham does not make an exception to that rule. There are some pretty interesting buildings that are scattered across the territory of the city. There are 1946 listed buildings in total here as of today. St Philip's Cathedral, Soho House, Perrott's Folly and the Town Hall are fine examples of Georgian architecture at its best. 1–7 Constitution Hill in the City Centre is a magnificent red brick and terracotta structure, which is often referred to by locals as "The Red Palace". The Crown Inn is another place with a sense of history. Located on Broad Street, it has been in existence at least since 1781 and it completely deserves its Grade II listing. There are many other really nice and interesting historic buildings in Birmingham waiting for you to discover them.