Moving to a major city is not as simple and straightforward as you may think. There are numerous things to factor in before you pack your things, say goodbye to your family and friends, and leave.
Driving is laborious
Big cities are infamous for their heavy traffic, especially during rush hours. This means that you will have to wake up early in order to get to your job but more importantly that it will take you some time to return home after your workday is over. You can easily solve this conundrum by using public transportation but this is also a thing that you must get used to, as switching metro lines and bus routes can be quite exhausting and frustrating at times.
People are more distant
Small cities are known for their welcoming and friendly residents. People in major urban areas however, are more distant. They need time to warm up to you because live in the big city is more dynamic and competitive, which is why most local inhabitants build walls around themselves and don't open up until they feel absolutely comfortable with someone.
Finding the right job isn't that easy
Yes, big cities offer more career opportunities but the downside is that, the completion of each job opening is much fiercer. Every day, new people arrive from all four corners of the globe in order to realise their dreams, have a reputable professional and live a good life. So, if you are expecting quickly to find a well-paid and decent job, know that you may be disappointed, as it will take some time.
Going to the restaurant isn't simple
Waiting for a table at an eatery is quite common in major cities. The only way to avoid this is to reserve a table but note that this will require some planning, as notable restaurants are booked for months ahead.
Moving will be challenging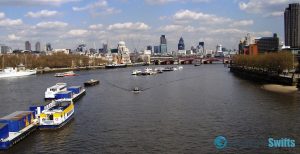 Intra-city relocations are hard enough, so you can only imagine how complex and labour intensive an inter-city move would be. This is why it would be for the best if you delegate the execution of your relocation to professional movers such as London Swifts as they provide insured nationwide removals to/from London. By doing so, you will have the peace of mind that all your belongings and valuable will be brought to you in a safe and orderly manner.
Learn to save
Life in a major city isn't cheap. This is why you must learn to be cost effective and not spend your earnings irresponsibly. Set aside money for your rent and bills, before you decide to go pleasure shopping or partying. Also, make sure that you save something for dark days because you never know when your employer may decide to sack you or your landlord to cancel your rental agreements
Give yourself time
Moving can be overwhelming, and relocating to a new environment is beyond that. So, give yourself enough time to properly acclimate with your new surroundings and get accustomed with the local way of life.