If you have already decided to rely on comprehensive home removal services in London the next time you are moving house in the English capital, you have made the right choice. But even the most seasoned and skilled movers are challenged by certain categories of customers. You can hinder the work of your team of professional moving specialists by assuming that qualified movers:
Need your help
Know what you have in each box
Will put up with bad attitude or a disorganised person
Have the strength of Hercules
Also, it would be wrong to think that the moving experts in London you hire are able to read your mind. You must always voice your concerns and share your requirements with them. However, that should happen during the planning process of your relocation and not during the relocation itself since the movers will need to prepare in advance.
Leaving the packing for the last minute
Do not pack on the day of the move. Do that at least one day before the moving date or you may delay your relocation. The goal is to be ready with all the packing by the time the movers arrive at your property. If you fail to do that, you may delay your relocation and increase your moving costs.
Forgetting to label the moving boxes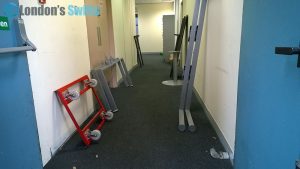 Make sure you also label each and every one of your boxes when you are packing your possessions. The movers will have no problem moving an unmarked crate or a box. However, if they do not know what it contains, they will not know where in the van to put it. Imagine, for example, that they place the moving box with your china under the box in which you have packed your dumbbells – your fragile and fine dishes will stand no chance against your heavy fitness equipment.
Making heavy items even heavier
Certified movers are trained to move various types of bulky and extra heavy items, including pianos, wardrobes and refrigerators. Still, make an effort to reduce some of the weight of the largest and heaviest furniture, appliances and other possessions that you own. You can do that by emptying the drawers of your desk or by removing the mattress from the bed.
Failing to provide easy access to your home
The movers should enjoy a quick and easy access to your house. So, do not park your car right in from of your gate or in the centre of your driveway. Provide enough room for a large moving truck in front of your property and that will enable the moving experts to complete your move in no time. In addition to that, the movers will be less likely to suffer an injury or to be involved in some accident during your relocation.
Trying to assist them
Competent moving specialists do not need your help. Don't forget why you have hired them – to assist you and not the other way round. Also, do not assume that you know more about domestic removals than the pros. Yes, as their client you are welcome to share all of your requests but you should not add tips and instructions to that list.